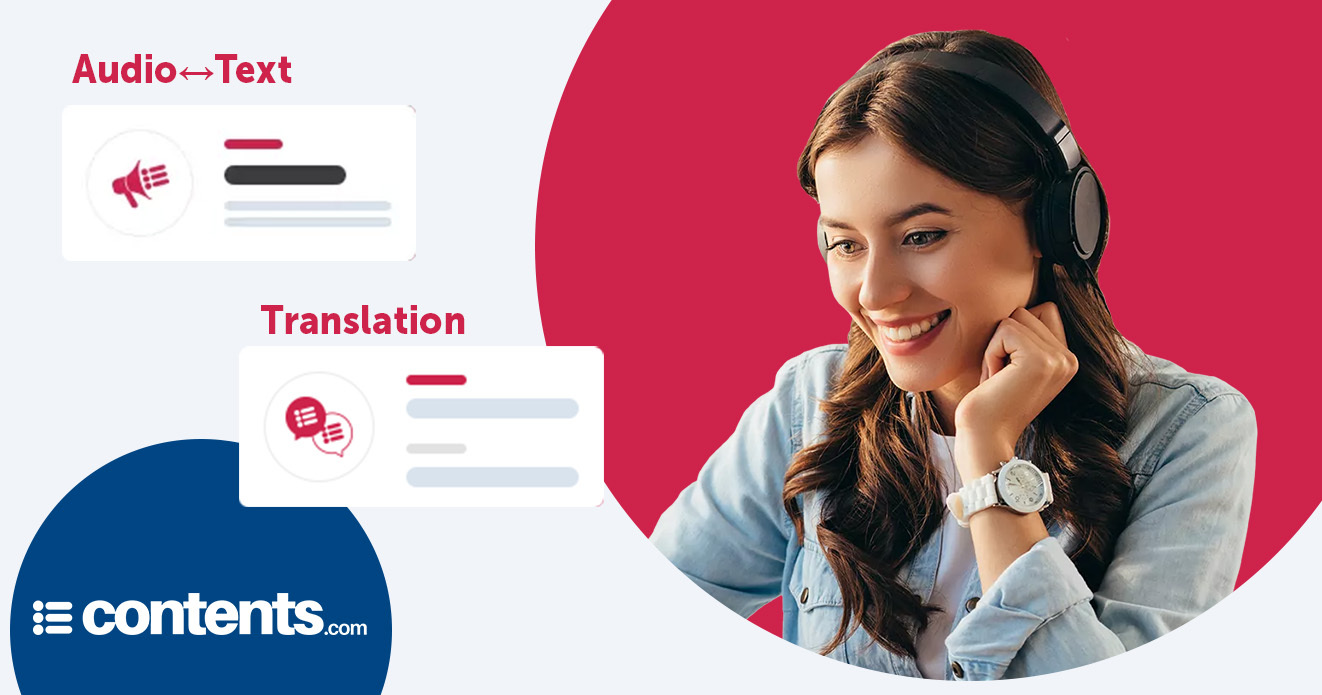 Contents.com's Translation and Audio↔Text tools help break down language barriers
― 4 August 2022
Diversifying content and making it accessible to a wider audience allows you to maximize engagement. That's why Contents.com provides two digital tools that, through artificial intelligence, help to overcome language barriers and meet the needs of every user.
Accessibility and personalization are two key criteria for marketing: content that is multilingual and can be both read and listened to reach the target audience more effectively. That's why Contents.com has created two tools that allow you to transform your content, with translations in more than 25 languages and the possibility to convert text documents to audio tracks, and vice versa.
The transformation tools: Translation and Audio↔Text
Contents.com has designed two tools that, through the synergy of artificial intelligence and the expertise of proofreaders, support content creators who want to make their content more accessible, whether for foreign users, people with hearing or visual impairments, or those who simply want to be free to choose how they enjoy an article or lecture.
Translation is the tool that allows you to convert your content into another language, taking advantage of the potential of artificial intelligence and/or the help of professional translators, and thereby gaining an international audience. Thanks to artificial intelligence, it is possible to request translations in over 25 different languages, while proofreading by an expert translator, often a native speaker, is available for 4 languages – Italian, English, Spanish, French.
Audio ↔ Text is, instead, two tools in one: it allows you to quickly obtain both a transcription into text of an audio track and audio content from text documents. In the latter case, depending on one's personal preference and purpose, it is possible to choose from as many as 50 vocal timbres in different languages.
"In the age of social media, the way in which companies vehicolate a certain message is at least as important as the message itself. Anyone who publishes content online ends up in a digital arena where competition is extremely high," says Massimiliano Squillace, CEO of Contents.com. "The ability to diversify the ways in which people can enjoy their content, therefore, represents a trump card available to Contents.com's clients. The transformation tools allow them to amplify their reach, reaching more and more users who will be able to know and appreciate them."
The 7 tools for content creation
Translation and Audio↔Text are part of Contents.com's 7 tools designed for content creators because they allow AI to do the routine work and human expertise to do the creative and strategic work, allowing Contents.com customers free to focus on what makes their content truly unique.
Contents.com has therefore designed seven different tools, each with a specific purpose: for the ideation phase, Brainstorm and Industry Trends; for the creation phase, Brief a Writer, SEO Content and E-commerce; and, last but not least, for the transformation phase, Translation and Audio↔Text.
For more information about the platform and its products, please visit www.contents.com .