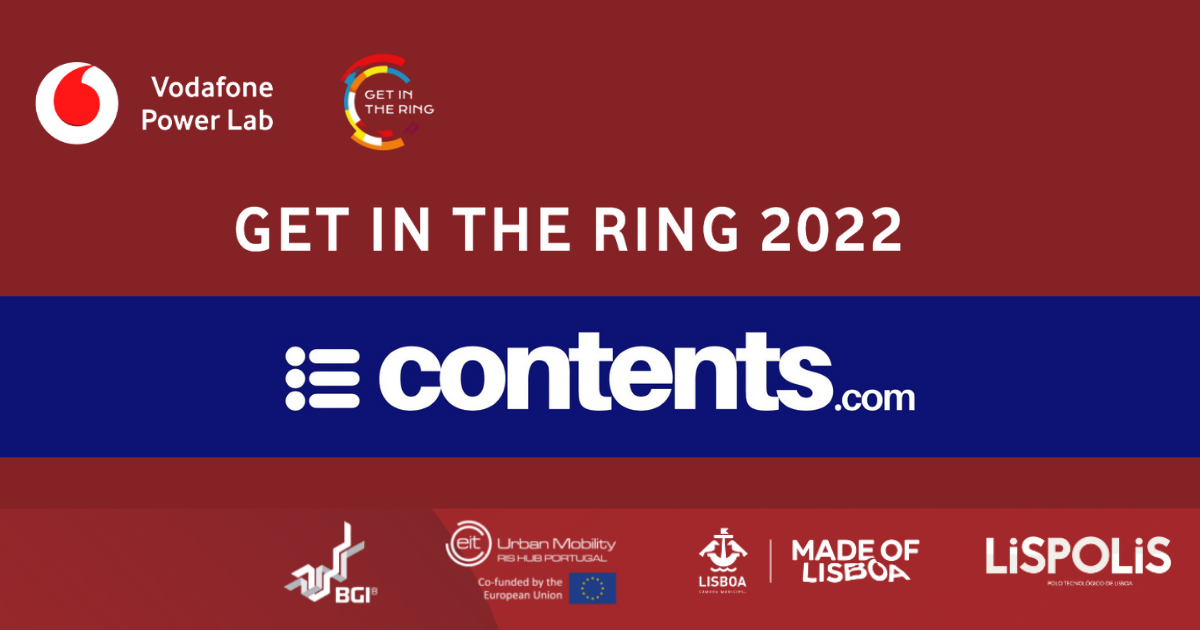 Contents has been chosen by Vodafone to fly to Lisbon for the prize Get in the Ring
― 24 May 2022
The tech company, outstanding among hundreds of companies in the global Vodafone Power Lab competition, will fly to the final competition in Lisbon on 31 May 2022
Contents.com, the martech company that is revolutionizing content automation through a perfect balance between artificial intelligence and human creativity, has been selected to participate in the final event of Get in the Ring – Vodafone Power Lab 2022. The competition, which brings together some of the world's most innovative startups and scaleups, is hosted by the telecommunications giant and is active in more than 100 countries. The event will be held in person at the Pólo Tecnológico de Lisboa – Lispolis on May 31, 2022.
Vodafone Power Lab is an incubator founded by Vodafone in 2009 to foster innovation and entrepreneurship. Designed to help advance technology-based startups through incubation, mentorship, networking and an acceleration program, it receives hundreds of applications every year. Vodafone Power Lab thus connects with the entrepreneurial ecosystem by promoting various initiatives and has helped launch more than 200 projects to date, many of which are now established startups and scaleups.
"Having a real impact on companies is our goal. Being chosen by a company like Vodafone is an extraordinary validation and a confirmation that what we are building is being recognized and appreciated. " – comments Massimiliano Squillace, CEO and Founder of Contents. 
Contents.com: the 7 tools for content creation
Contents.com, conceived as a one-stop shop for content ideation, creation and transformation, is able to offer many solutions to support its customers' content strategy, relying on AI for the routine work and human experience for the creative and strategic one. In its updated version, it has designed seven different tools, each with a specific purpose: for the ideation phase, Brainstorm and Industry Trends; for the creation phase, Brief a Writer, SEO Content and E-commerce; and last but not least, for the transformation phase, Translation and Audio ↔ Text. 
For more information about the platform and its products, please visit www.contents.com  
About Contents.com
Contents.com is a market-leading tech company in content ideation, creation and transformation. Through the development of a proprietary one-stopshop online platform, Contents.com helps companies produce multilingual, unique and high-performing content by integrating AI efficiency and human creativity. In addition, to meet the needs of the enterprise market, the company offers customized content automation and content strategy solutions. Born in 2020 from the idea of Massimiliano Squillace, a serial entrepreneur and angel investor in several Italian and foreign companies and startups, Contents.com has 55 people to its credit and offices in Milan and Madrid.