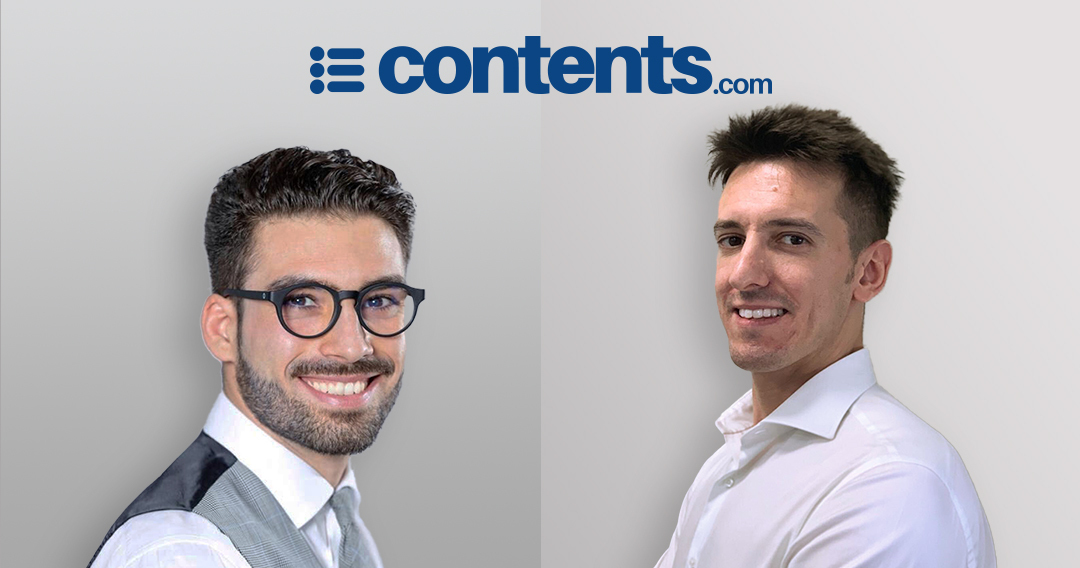 Contents Media&AdTech business unit strengthens with new Sales Manager Alberto Maria Gambino, who will join the team of Alessandro Calatroni, Head of Sales Contents Media&AdTech
― 18 July 2022
Alberto Maria Gambino brings his experience in media partnership management to Contents Media&AdTech sales team. Over the past 6 months, the business unit dedicated to Advertising Technology has already brought 80% growth in new business for Contents.
Milan, July 18, 2022 – Contents, one of the leading tech companies in content creation, strengthens its Contents Media&AdTech business unit with an offering dedicated to services and technologies for Advertising. The commercial development of the offering is entrusted to Alessandro Calatroni, Head of Sales Contents Media&AdTech.
The main strength of the new area is the synergy between the first-party audiences of Contents' proprietary network and its own technological platform, which allows advertising content to be conveyed only to users who are really interested in the brands' message.
The activity developed by the new business unit in this first part of the year led to an increase in new business of 80% from January to June.
In addition to this, Contents Media&AdTech has planned to expand its staff.
That is the main reason behind Alberto Maria Gambino hiring as AdTech Sales Manager in Alessandro Calatroni's team. Alberto will be in charge of business development of both branding and performance based solutions, focusing on the agency and brand market. After graduating at the University of Milan-Bicocca, first in Economics and Business then in Marketing and Global Markets, Alberto Maria Gambino joined Digitouch Group acquiring skills and knowledge to implement and plan communication projects for the main clients of the Group's portfolio; after several years he assumed the role of Media Partnership Director with the task of managing relationships and defining partnership agreements with industry stakeholders, evaluating and managing media plans for clients and providing strategic support.
"I am excited to join Contents and to be able to contribute to the growth of the newly created AdTech division through my consolidated experience in developing media partnerships with brands," says Alberto Maria Gambino.
Alessandro Calatroni, Head of Sales Contents Media&AdTech, commented, "Alberto's entry is fundamental in the growth of the new AdTech division, which aims to increasingly qualify itself as a reference for brands seeking visibility and professionalism in the Digital sphere."
Gambino's entry is part of a corporate growth process. More team members are expected to join the team in the coming months, reinforcing the Sales, AdOps and Account Management structures, in order to expand market coverage, guide partners toward the new challenges that the cookieless era will present, and ensure that clients always receive excellent service.