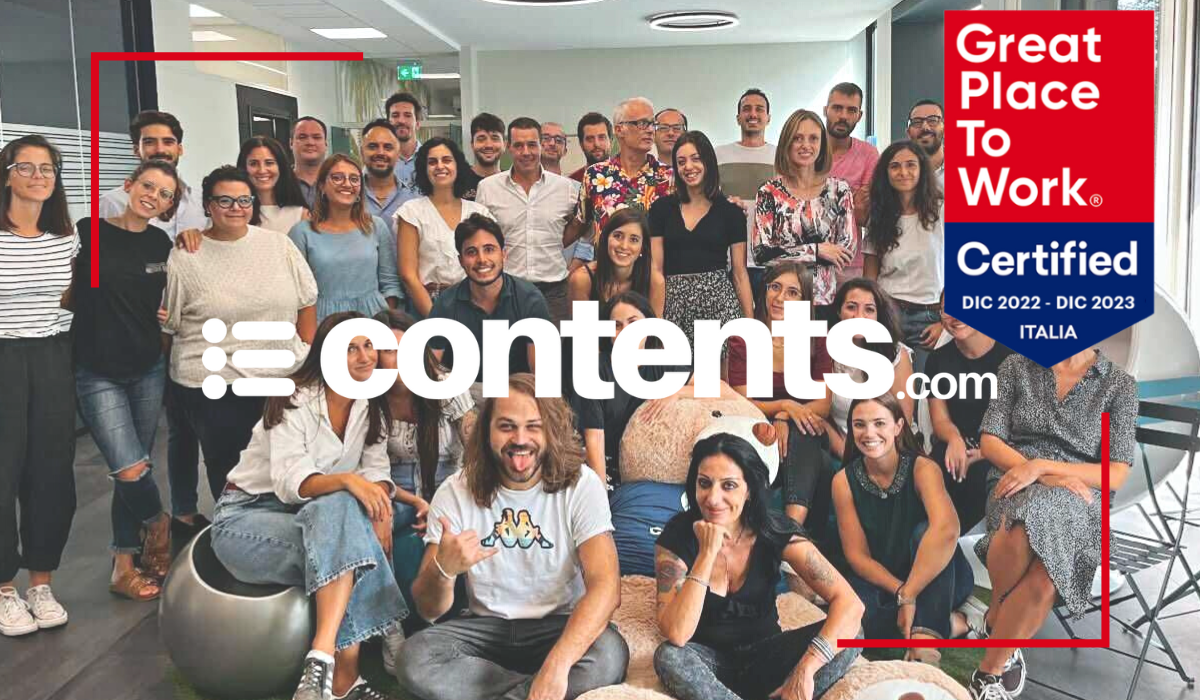 Great Place To Work® certification confirms that Contents.com is one of the best places to work.
― 25 January 2023
Contents.com employees express extreme satisfaction with their daily working life, leading the global company to win coveted certification
Contents.com, the scale-up specializing in Generative AI solutions for multimedia content creation, has been awarded the Great Place To Work® Italy certification, which recognizes companies that have distinguished themselves for their organizational culture and quality of work environment.
The certification, issued by Great Place To Work®, an organizational research and consultancy company, deals with the level of well-being present within the workplace through the collection and analysis of the employee experience. "Thanks to a lively and interconnected environment like ours, we can enhance everyone's ideas and strengths," says Salvatore Guddemi, CFOO of Contents.com. "Ours is an environment in which affinity of intent, collaboration, and solidarity between colleagues are at the heart of our work."
Contents.com achieved this recognition thanks to the quality of its human resources management processes, the trust in the relationships between colleagues, the motivation and engagement level of staff, as well as the ability to attract talent, the pride of employees in collaborating within the company structure and the constant focus on innovation.
"Ideas are nothing, people are everything," said Massimiliano Squillace, CEO, and Founder of Contents.com. "The well-being of our employees and collaborators is and must always be a priority. For us, it is imperative that our teams are satisfied with the corporate identity and the everyday life they experience in the workplace. We are confident that positioning ourselves in the market as a quality company focused on creating a positive corporate climate is the way to attract the best talent, employees, and stakeholders.
The company, in just two years, has grown by 325% in terms of workforce and continues to attract numerous talents by focusing on company policies that meet the various needs of work-life balance. These include a supplementary health plan, discounts, and concessions with restaurants and institutions, training courses, and a hybrid and flexible working method, adapted to the various needs and requirements of its employees.