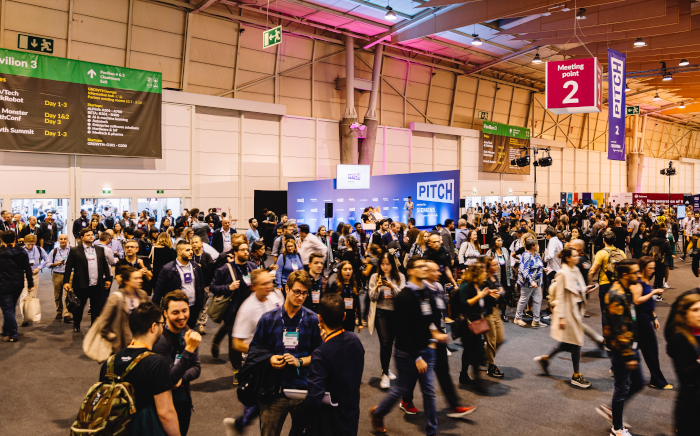 10 of the most anticipated startups at Web Summit 2021
― 5 November 2021
More than 1,250 startups will be exhibiting at this year's Web Summit event in Lisbon. Meet some of those we're most excited about.
At the heart of Web Summit is the vibrant community of startups that come together at our events to network and exhibit. There are too many to mention here (more than 1,250!) but we can reveal some of the most anticipated joining us at this Altice.
1. GuestReady
GuestReady is a London-based startup with a focus on short- and medium-let property management. Their tagline is, "We take the hassle out of hosting".
Launched in 2016, GuestReady offers a service that covers everything from professional photography that makes your property looks its best to pricing experts who ensure you get the best deal.
GuestReady offers a form of concierge service too. Someone will be there to hand over the keys and help guests settle in, and there will be a person on hand to lock up and collect the keys.
2. Finoa
Founded in 2018 in Spain and now based in Berlin, Finoa is the brainchild of a team of former strategy consultants, banking technology veterans, fintech entrepreneurs and digital asset experts. What began as a two-person startup is now a business employing more than 40 people.
Finoa offers a wallet for your crypto assets alongside a user-friendly platform providing portfolio coverage for both institutional and corporate customers. The Finoa API allows users to integrate the digital wallet with their own applications.
Additionally, as a qualified custodian, the startup holds a preliminary crypto-asset custody licence and is supervised by the German Federal Financial Supervisory Authority (BaFin).
3. Contents.com
Contents.com is an AI-powered platform for content creation with a hybrid approach: customers get content that is developed by both AI and human copywriters.
Headquartered in Italy, and with offices in the US and Spain, Contents.com offers translation services (again, this is a mix of machine learning and humans). It also has tools that compliment content creation, including its Heatmap feature, which tracks every interaction on a customer's website and carries out analytics in real time.
4. Business Score
Business Score is a hub for business owners looking for funding to make the transition to online trading. This startup helps you set up one central profile, get a business score, and use this to apply for funding with multiple lenders.
In just a few clicks, Business Score promises to show you what funding options you are eligible for. Perks include access to products and services from trusted partners, including Seedrs and Grantify.
5. Mirai Foods
We hate to throw around terms like 'cutting edge', but this Swiss startup deserves the title. Its mission is to provide real meat that is both sustainable and cruelty-free. Mirai is working on developing lab-grown red meat that uses animal cells from a small sample of a cow's muscle tissue to create low-stakes steaks. No cows are harmed in the process!
Different to earlier attempts at lab-grown meat, Mirai is focusing on getting the right balance of fat and muscle for an authentic taste and texture. Stem cells are isolated and transferred to a bioprocessor, where they multiply (a lot!) before being harvested.
In March 2021, the cultivated meat startup announced that it had raised US$2.2 million in a second round of seed funding, bringing total funding to date to US$4.5 million.
6. EcoTree
Have you ever fancied growing your own trees? This Danish startup will do it for you, making you money in the process.
EcoTree has a unique sustainable forestry model that allows customers to instantly buy trees around the world, track their growth and monetary value and, when the tree is ready to be cut down for sustainable timber, the profit goes back to the customer.
In addition to buying individual trees, it is possible to take out a 'forest subscription' starting at €19 per month – with an estimated growth value of €540 – capturing 7.2 tonnes of CO2 in the process. And EcoTree guarantees that three new trees are planted every time one is cut in its sustainable forests.
7. 44.01
Another popular sustainability-themed startup at this year's Web Summit is 44.01. Founded in London in July 2020, 44.01 is the passion project of environmentalists who are determined to make a difference.
At 44.01, the ultimate goal is to remove one gigatonne of CO2 from the earth's atmosphere by 2030. This will be achieved by taking the carbon emissions produced by global passenger and freight air travel and mineralising the resulting CO2 into rock.
This environmentally-oriented startup says it only partners with companies that use Direct Air Capture or other similar processes to remove carbon. It also says partners must "show legitimate interest in decarbonising their processes, ie, they are committed to reduce emissions and store the CO2 that is connected to unavoidable emissions".
8. Payaut
Amsterdam-based fintech startup Payaut is going from strength to strength, having recently secured a payment service provider (PSP) licence from the Dutch central bank to provide payment services. This means they can now do business anywhere in Europe.
Founded in 2019, Payaut is an automated payment solution for online marketplaces. It provides PSD2-compliance while still allowing customers to use multiple PSPs.
Payaut is backed by prominent European VC funds, including LocalGlobe, which has previously invested in stock trading and investment app Robinhood and online car retailer Cazoo.
9. Greenomy
The sustainability startup space – much like planet Earth – is heating up this year. Another interesting startup in this area is Belgium-based Greenomy. A self-described "one-stop sustainability reporting SaaS", this startup helps businesses make the transition to carbon neutral in line with the European Commission's Green Deal.
With its services, used by Deloitte and Accenture among others, Greenomy's tools help organisations with the regulatory, technical and project management aspects of sustainability goals and compliance.
Recently Greenomy was awarded European Discovery Fintech Startup 2021 at the European Finance Summit in Luxembourg, and was chosen as the International Laureate of the Fintech for Tomorrow Challenge 2020 by Paris Europlace.
10. DEIP Creator Economy Protocol
DEIP wants the creator economy to be open to everyone, regardless of technical proficiency. Its web 3.0 protocol, tools and applications work in two modes: no code and low code.
Incubated by a decentralised research and development incubator known as Collective Intelligence Labs, DEIP's focus is on Web3 technologies, ie ensuring creators can register assets in the form of NFTs and finance their work through blockchain-based crypto.
DEIP describes its platform as "infrastructure for working with intangible assets, such as ideas, technologies, inventions and art".
One interesting use case for DEIP is citizen science incubator ACTION. This portal is a platform for citizen science projects, and is built using DEIP's applications. The portal "aggregates citizen science projects to assess their quality and performance via a customised peer-review process".