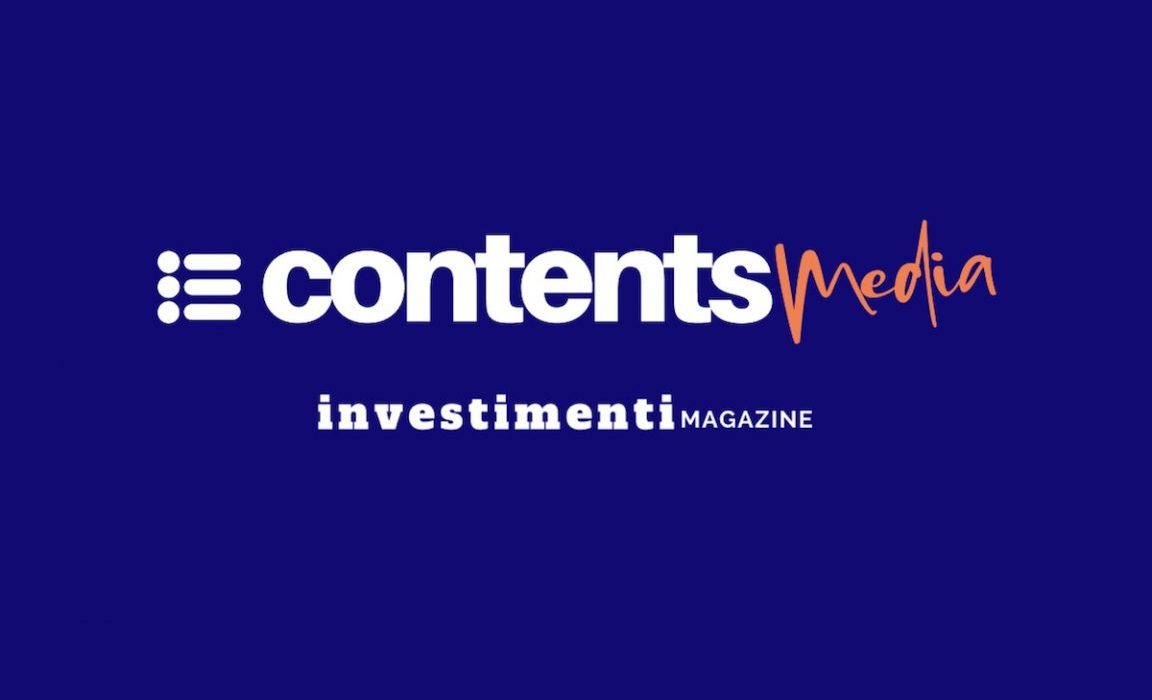 Contents Media goes shopping in the finance area and acquires Investimenti Magazine. Concession to Italiaonline
― 29 April 2021
Massimiliano Squillace, CEO of Contents, the tech company that uses artificial intelligence to create content and analyse trends, announces the acquisition through Contents Media of Investimenti Magazine, the leading magazine on cryptocurrencies in Italy with a focus also on finance, trading and credit. 
Milan, 28 April 2021- Contents Media, the digital publisher headed by Contents Spa, with 19 properties around the world covering topics such as technology and innovation, health and wellness, fashion and lifestyle, sport and leisure, for different types of audience, acquires Investimenti Magazine, a brand with a focus on finance, crypto, stock exchange and investments.
Contents Media, a publisher with a strong technological core, is already known in Italy for the brand Notizie.it, which with a fan base of over 20 million users and more than 150 million page views per month, is one of the company's strengths, along with other Italian and international properties.
Among the international properties, the following are already on the global market: Infos.fr in France, Actualidad.es, Think and Viajomos in Spain, Newshub.co.uk in the UK and Newz.com, an American site with a fanbase of over 6 million users. The new brand, Investimenti Magazine, will cover topics related to online trading, finance and the investment world.
"Contents Media's news offering further expands, opening a window on the world of investments, trading and cryptocurrencies as well as the sustainable economy" – comments Mario Marzullo, Head of Media at Contents. "With this new acquisition, Contents grows, expanding its authority also in the finance sector". 
 Investimenti Magazine is therefore a new showcase for reaching an audience of professionals and savers interested in Italian and international financial markets. It will be the ideal planning context for the b2b and professional worlds, with in-depth articles dedicated to the most relevant topics for productive and economic activities.
After fundraising, Contents inaugurates an acquisition campaign in strategic areas, including the economy and finance. We plan to acquire the best brands in many strategic areas to consolidate our positioning," says Massimiliano Squillace, CEO & Founder of Contents. "This is a historic moment in which a new acquisition campaign means, above all, acquiring cultural capital and talent. This is the only way to truly innovate. "
Advertising sales for the new channel, which will enrich the news coverage of Notizie.it, will also be handled by Newsonline, the Italiaonline Group's concessionaire, which exclusively handles
Group's advertising agency Newsonline, which is exclusively responsible for advertising sales for a significant pool of native digital newspapers in the news&information category.
About Contents
Contents is a marketing tech company that has developed a proprietary software platform that allows, thanks to advanced data analysis and machine learning algorithms, the fastest and highest quality production of digital content on various topics and in various languages. The platform integrates modules for analysing online trends and competitors, for tracking user behaviour, and feeds Natural Language Processing and Natural Language Generation modules for generating AI-based content. 
Contents operates through two business lines: Contents.com and Contents Media, the business unit that leverages its proprietary technology to produce and enhance innovative online editorial projects.
Press Contacts Contents  S.p.A.
Via Paolo da Cannobio, 9 – 20122 Milan
304 S Jones Blvd #6089 – Las Vegas, NV 89107
Email: info@contents.com
Press Office: press@contents.com