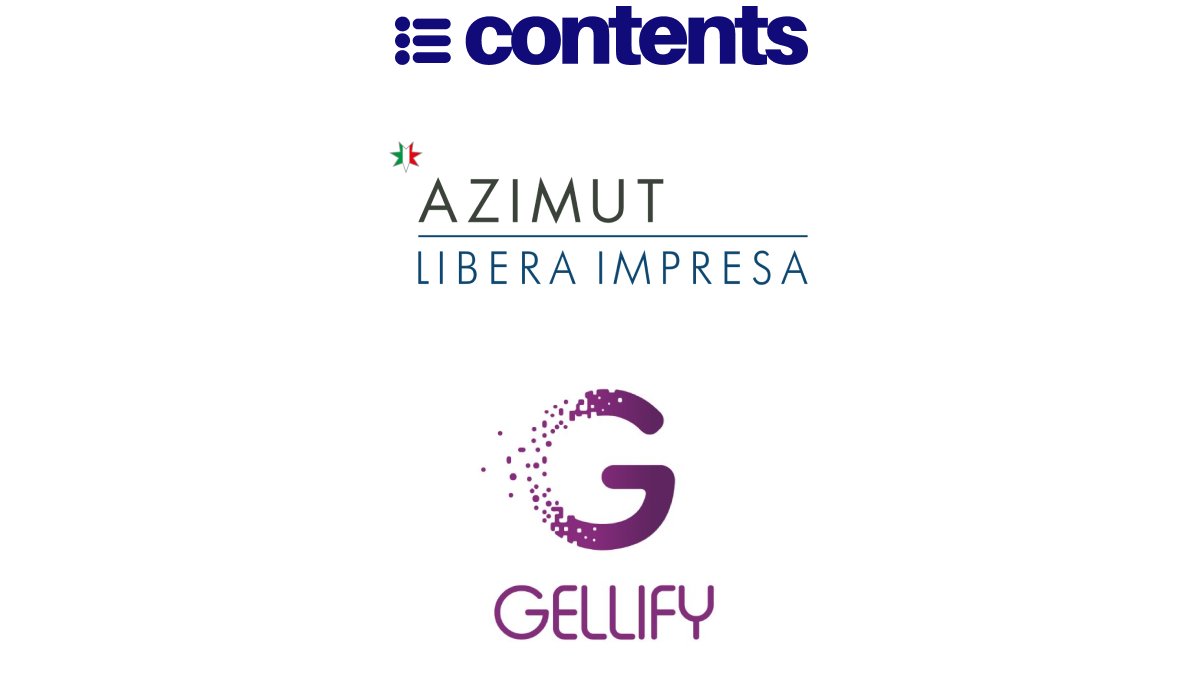 GELLIFY and Azimut Digitech Fund participate in the €5M capital increase of Contents S.p.A., which has Sinergia Venture Fund, the VC fund of Synergo Capital SGR, as its lead investor.
― 5 May 2021
The transaction, underwritten by GELLIFY together with Azimut Libera Impresa SGR through the Azimut Digitech Fund, will allow this B2B software startup that analyzes trends and automatically creates digital content through artificial intelligence to scale and consolidate its technological leadership in the content creation industry.
Milan, May 5th, 2021 – Contents [ https://contents.com/en ], a tech company that developed an artificial intelligence SaaS platform based on a perfect interaction loop between data analytics and machine learning systems to simplify access to data and which helps improve communication of all kind of online businesses, has joined the portfolio of GELLIFY [ www.gellify.com ], a B2B innovation platform that selects, invests in and grows innovative and high technological startups and connects them to established companies to innovate their processes, products and business models and Azimut Digitech Fund, a closed-end alternative B2B venture capital fund that invests exclusively in B2B technology companies established by Azimut Libera Impresa SGR (Azimut Group) in partnership with GELLIFY and operational from the end of December 2020.
The co-investment transaction by GELLIFY and Azimut Digitech Fund will allow Contents to continue on its growth path, providing the resources and skills needed to meet the market challenges, become a global company and expand its presence beyond the five countries where it already operates (e.g., Italy, France, Spain, the UK and the US).
Contents was founded in 2017 by Massimiliano Squillace, a serial entrepreneur of tech and digital companies with extensive experience in the international arena and founder of five successful exits, including OLX, a global consumer internet company.
The idea behind the technology platform is to make the process of data analysis and content creation harmonious and automated to better understand people's behavior and improve the analysis and generation of content using big data.
The system, which is based on Natural Language Generation AI, allows companies to automatically generate content without human intervention.
The proprietary algorithm, integrated in one single environment, is able to collect and process data by making predictions. It simulates the structure of the human brain to improve machine learning and identifies patterns to make decisions with minimal human intervention.
The solution proposed by Contents guarantees a quick and intuitive use of the available tools thanks to its simple and immediate interface, which is scalable and adaptable to big corporations as well as small and medium enterprises.
Among the big companies that relied on its proprietary technology, directly or through partners, are Disney's e-commerce website (shopdisney.com), Booking.com, Amazon, Spotify, BMW, Microsoft and Yahoo.
Contents is also a media producer thanks to its technology and has 18 international properties to its credit, including Notizie.it and Newz.com, which cover a wide range of topics such as technology and innovation, health and wellness, fashion and lifestyle, and sports and leisure.
Moreover, it reaches 100k users on an international scale, integrates 500 data sources every day, processes 3 billion data per month and monitors 3 million e-commerce stores in one hour.
The startup began and remains in the digital media market, which has great potential both in terms of prospects and numbers.
In 2020, this market was worth 254.8 billion U.S. dollars. Specifically, e-publishing was valued at 24.8 billion U.S. dollars.
The global market growth is expected to reach a CAGR of 10% through 2025, with a market value of 414.2 billion U.S. dollars in 2025.
The further growth of the digital media market is also due to the use of AI for content creation. In fact, artificial intelligence can help businesses to better learn and understand users' behavior, and instead of making suggestions based on what the user has seen, AI can make recommendations based on what the user has liked, combining the analyzed results and influencing content creation and idea research.
GELLIFY Managing Partner and Founder Michele Giordani commented: "In an increasingly data-driven global environment, with the expansion of mobile Internet access and given the steady growth in demand for all types of Digital Media, tools that aid in the understanding of data and its use in an industrial process are proving increasingly necessary. We're excited about the Contents deal because their artificial intelligence-driven content automation and generation platform gives companies the ability to scale their customer engagement and engagement strategies and thus the ROI of their marketing investments."
"We are delighted with this transaction and confident that a strong industry synergy can be created within an ecosystem like the one in which GELLIFY operates," said Massimiliano Squillace, the CEO and Founder of Contents. "Good things happen working alongside the right people."
About GELLIFY
GELLIFY is an innovation platform that connects high-tech B2B startups with traditional companies to innovate their processes, products and business models. With headquarters in Italy and offices in Spain and the United Arab Emirates, the company's success is based on its unique model that infuses companies with the most advanced B2B startup technologies and GELLIFY's expertise. The platform accompanies startups from their "gaseous" or "liquid" embryonic state to a reliable and scalable "solid" state through its exclusive and proprietary growth program, GELLIFICATION. This growth is financed through smart investments implemented by GELLIFY and its co-investors.
GELLIFY has also created a community called EXPLORE where entrepreneurs, innovators and professionals can connect on any digital device. Through the app, downloadable from the App Store and Google Play Store, subscribers can have phygital experiences that alternate between the physical and digital world, participate in events, and infuse their companies with the most advanced startup technologies and GELLIFY skills.
GELLIFY consists of three business units:
– GELLIFY for Startups, which is dedicated to the gellification of startups that have already expressed traction in the market. The gellification program provides more complex services than mentorship and basic business creation services typical of incubators. It lasts 6-24 months and involves all areas of the company.
– GELLIFY for Companies, which is focused on open innovation services for SMEs and large corporations that want to build new innovative business paths. This division specializes in corporate venturing, innovation strategies, sales and marketing digitization, Industry 4.0 and digital operations, digitization and workforce empowerment.
– GELLIFY for Investors, which provides investment advisory services and the management of a GELLIFY Investment Fund on selected innovative B2B tech startups.
Partners of GELLIFY for 2021 include the tax consulting firm Pirola Pennuto Zei & Associati with Partner Stefano Tronconi and Associate Partner Luca Neri; the law firm Gianni & Origoni with Partner Federico Dettori and Associate Partner Rodrigo Boccioletti, as part of the activities of the Gop4Venture practice; and T.T. Tecnosistemi, a company focused on advanced IT solutions.
GELLIFY Contacts
Corporate Communications
Daniela Abbondanza
Mob.: +39 342 0982305
Email: daniela.abbondanza@gellify.com
Website: www.gellify.com
Linkedin: linkedin.com/company/gellify
About CONTENTS
Contents is a marketing technology company that developed a proprietary software platform that allows online businesses to produce the fastest and highest quality digital content on various topics and in various languages thanks to advanced data analysis and machine learning algorithms.
The platform integrates modules for online trends and competitive analyses, tracking users' behavior, and in this way, it feeds Natural Language Processing and Natural Language Generation modules to generate AI-based content.
Contents operates through two lines of business:
– Contents Media is the business unit that leverages proprietary technology to produce and enhance innovative online publishing projects.
– Contents.com is the business unit that develops the technology platform and enables it to go in SaaS mode for enterprise customers.
The company has a team of 32 collaborators and is currently operating in Milan, Paris, London, Madrid and Las Vegas.
Contents S.p.A. Contacts
Email: info@contents.com
Press Office: press@contents.com
Mob.: +39 02 96840095