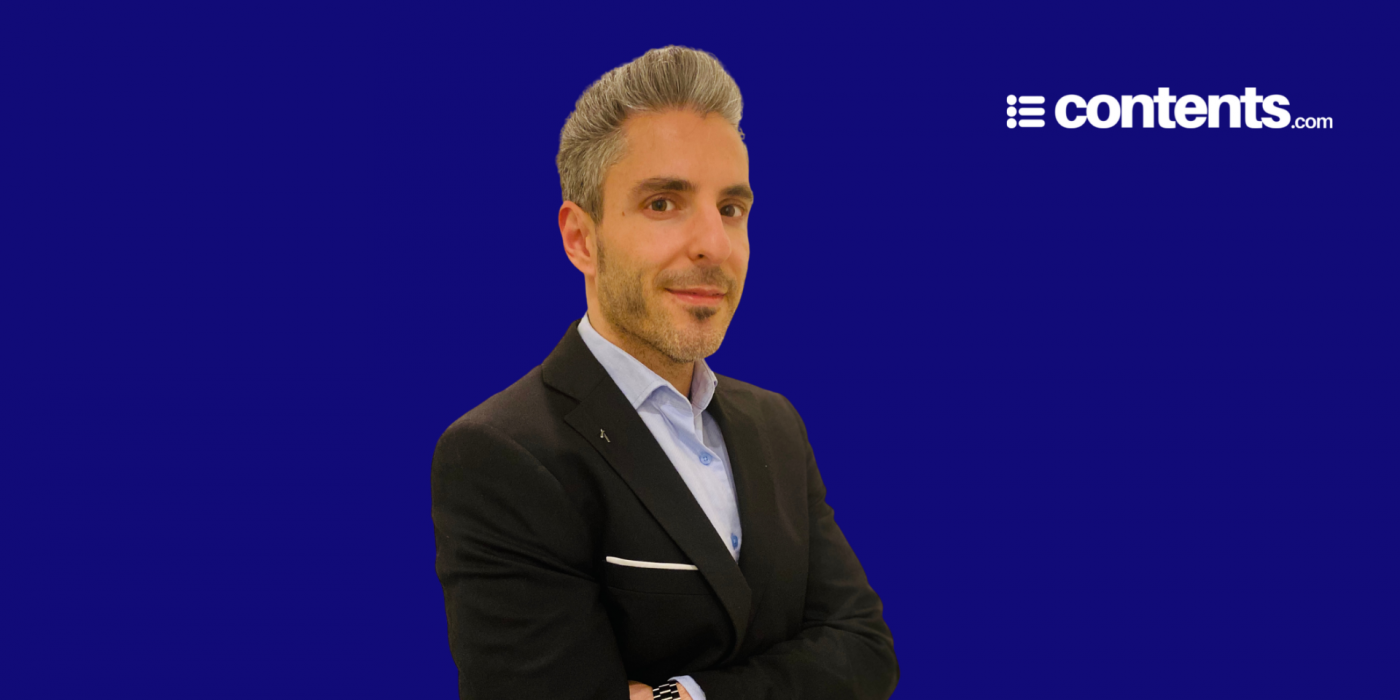 Daniele Salvati is the new Chief Technology Officer of Contents.com
― 15 April 2022
Contents.com welcomes Daniele Salvati to its team as Chief Technology Officer. Salvati is keen to assess and propose innovative strategies for technology, placing himself at the forefront and always looking towards the future.
Effective 1 March 2022, Daniele Salvati is the new Chief Technology Officer of Contents.com (www.contents.com). This appointment confirms not only the company's intention to increasingly focus on rejuvenation, but also its commitment to develop its competitiveness through services structured around the best and most innovative technological solutions. Since January 2022, Contents.com has welcomed 5 new staff members and now has a team of 51.
Contents.com is a marketing tech company which has developed a proprietary software platform that uses advanced data analysis and machine learning algorithms to produce the fastest and highest quality digital content on various topics and in various languages. The decision to work natively with all the world's languages reflects its cultural mission of eliminate language barriers and encourage immediate communication.
Born in 1984, Daniele Salvati began his professional career as a programmer for a small company with only 4 employees. In 2013 he landed the role of Senior Web Developer at Antevenio, a leading multinational digital marketing company, and was promoted to IT Director just two years later. In 2017, he was hired as CTO to lead the technology transformation of GoodBuyAuto, Italy's first car e-commerce company, subsequently rising to the ranks of Quattroruote Professional and Arval. In 2019 he continued his managerial and technical growth at ICE Flex, a company co-owned by the giant Wittmann Battenfeld, and now, 11 years later, Salvati is thrilled to be embarking on a new adventure at Contents. 
"I am incredibly lucky and excited to join Contents' team. It is already a well-structured company with very definite ideas about the future, which is exactly what I think a company should be: a stimulating place where you can grow together with talented people who want to make things happen. This new beginning is the culmination of a personal challenge and I am convinced that I can bring new stimuli and technical expertise to the company, because I love what I do and I am totally committed to it." comments Salvati.
Daniele Salvati's new appointment demonstrates Contents' intention to select the best talents, capable of breaking traditional molds, designing creative solutions to innovate society and pushing the boundaries, implementing ideas that add real value to people's lives.
"We believe that change is an opportunity and a good starting point for continuous improvement.  Technology shapes everything we do, and I am confident that Daniele is the right person to lead us with great conviction towards new stimuli that always focus on people," says Francesco Magnocavallo, Chief Product Officer for Contents.com. 
For more information about the company and its products, please visit www.contents.com